Car not shifting gears right? AA Auto Repair specializes in Auto Transmission Problems. You may or may not need a new transmission. We can upgrade your tranny. Stop Skipping gears and allow us to fix your transmission.
REQUEST_DENIED: This IP, site or mobile application is not authorized to use this API key. Request received from IP address 67.227.199.125, with referer: https://maps.googleapis.com/maps/api/place/details/json?key=AIzaSyALfQbv-a8V1TRlxjYPrKL2Emjd45GQ58w&placeid=ChIJh3OlRT9Y2YARmcq4yCL2aB4
Here at AA Auto Repair & Tires El Cajon, CA, we know your transmission is the last thing you have time to worry about. Our Transmission & Auto repair specialists make sure you leave our center with peace of mind knowing that your car received the best care, all at the right price!
If an AA Auto Repair & Tires Transmission Multi-Point Inspection diagnosis determines if you need a rebuilt transmission, you?ll discover the difference that rebuilding your transmission by an AA Auto Repair & Tires expert technician can make because your rebuilt transmission is backed by the strongest nationwide warranty in the business – up to the life of your car depending on your needs.
If an AA Auto Repair & Tires Transmission Multi-Point Inspection diagnosis determines your need for a new transmission, you can be confident that the unit that will be installed into your vehicle will provide years of dependable service. You?ll discover AA Auto Repair & Tires Transmissions are your most dependable solution whether an AA Auto Repair & Tires master builder rebuilds your transmission on-site using only the highest quality AA Auto Repair & Tires-approved replacement parts or whether we install a premier replacement transmission , you can count on AA Auto Repair & Tires for quality and reliability.
For both transmission replacement services, once your unit is installed or reinstalled, your on-site AA Auto Repair & Tires technician will refill the fluid, make any necessary external adjustments and road test your vehicle to ensure all of the problems you noticed prior to AA Auto Repair & Tires's service are corrected. You get peace of mind that your transmission has been rebuilt or replaced to AA Auto Repair & Tires's exact quality standards over 20 years old.?
New Transmission
Since the transmission is a vital part of your car, a transmission replacement is very expensive and should be avoided like the plague.
As a car owner you can prevent this by just keeping your Transmission Happy. Learn the warning signs for transmission problems before your car lands in the shop for an expensive replacement.

A bad transmission sign is if you can't even drive your car into the shop.
Rebuilt Transmission
A Transmission rebuild is recommended when a minimum number of parts are needed to be fixed to bring your transmission back to life.
It is a very cost friendly alternative as long as you find the best transmission mechanic to rightfully identify the parts that need to be fixed. Thankfully, AA Auto Repair & Tires is a auto service shop that is up for your challenge.
Nobody wants to go through a Transmission Rebuild but we have a process that is efficient and precise.

"How much does a new transmission cost? AA Auto Repair & Tires wants to give you a starting price for your repair service. Car Transmissions are difficult jobs but we've done hundreds of them. We've got your cars Transmission taken care of. We Love fixing Trannies!
Give us a call and tell us your make and model and we can go from there. You are in Great Hands!
AA Auto Repair & Tires wants to make sure you don't spend unnessary dollars on un-needed service. Check out some of our Frequently Asked Questions regarding Brake Service
How often should I maintain my automatic transmission?
It is rerecommend it for every 30,000 miles. Some vehicles come with "lifetime fluids" unless the vehicle is subjected to severe duty. Severe duty is defined as:
Operating in temperatures above 100 ?F or below 0?F
Carrying heavy loads or multiple passengers regularly
Regular high speed highway or interstate travel for an extended period of time
Driving in hilly or mountainous areas
Stop and go, city style, and traffic
How often should I maintenance my manual transmission?
We recommend it for every 50,000 miles.
Why does my Ford lose transmission fluid while backing up my trailer?
The E40D / 4R100 transmissions have a vent on the top for the transmission. After hauling a trailer, it is best to stop and let the transmission cool before trying to back it into a space.
Your transmission overheating is the root cause of this issue. A full synthetic fluid will help to keep your transmission cooler.
How often should I check my transmission fluid?
While you fill your tank, it's always a good idea to check your engine oil and transmission fluid. You shouldn't ever have to add transmission fluid as it doesn't burn off like engine oil.
Low transmission fluid is indicative of a leak, and can cause internal damage. Call us today to fix this problem before it becomes serious!
Should I repair or replace my transmission?
Some of the most dreaded words any car owner can hear is that their vehicle needs a new transmission.? Replacing a transmission is quite possibly one of the most expensive services that your car will ever require because working with the transmission is incredibly complex and can be quite time-consuming too.? In most cases, when you replace the transmission on any vehicle, you have two choices. You can rebuild the transmission or install a new (replacement) transmission. So, which of these is the best option? The answer isn?t always cut and dry.
Rebuilding a Transmission
Rebuilding a transmission means that your existing transmission will be taken completely apart and inspected. Any damaged parts are replaced until the transmission is back to factory specs. In most cases, the gaskets and other rubber parts will all be replaced, but damaged moving parts may need to be replaced as well. This is a complex process and rebuilding a transmission is a job for a specialist for certain.
The beauty of rebuilding a transmission is that you can?rebuild an older transmission?with up-to-date parts that manufacturers have designed to be more efficient and safe. While a transmission rebuild is a great solution in many cases, it can be challenging to find a transmission specialist who is up to the task and it may take him or her some time to complete the job correctly.
Installing A Replacement Transmission
Replacing your transmission is a bit misleading?in most cases, you can?t actually find a ?new? transmission. You?re likely working with a remanufactured transmission. This is similar to a rebuilt transmission, but it was done in a factory setting. For a quick fix, this is ideal. However, you may not have access to the most up-to-date parts and you don?t get to pick and choose how it is rebuilt.
Work with a Transmission Expert
Deciding on whether your transmission should be rebuilt or replaced is usually a question of cost and time. Having a transmission expert rebuild your transmission may take a little longer and cost a bit more up front, but it can result in a longer-lasting and better-performing transmission. The other option of installing a ?new to you? transmission still assures you have a safe, functional vehicle but you may not get as many options. Whichever way you are leaning, it makes sense to discuss your desires with an expert.
May I drive with a transmission leaking?
Transmission fluid is a crucial part of your engine. The fluid helps to both get rid of heat from the engines internal parts and activate gear changes.
In most cases, it?s probably not dangerous to drive your car if it?s leaking transmission fluid. But, running your car with little to no transmission fluid can cause damage to your whole engine. Here are some things to know before you hit the road:
What causes a transmission leak?
A transmission fluid leak can be caused by a gap in your transmission lines, or a space in the pan gasket, torque converter, fluid lines, the transmission pan, or any of the seals that holds these parts together. Loose, broken, or defective, seals tend to be a common cause of leaks, especially if they?re not properly sealed after your transmission is serviced.
The exact cause can be difficult to narrow down with an untrained eye, so it is best to have a professional technician inspect your vehicle.
How do I know if it?s really a transmission leak?
As you can read about in?our color diagnostics article, transmission fluid is colored green or red so it can be distinguished from other fluids in the vehicle. Usually, you?ll see a puddle of fluid under your car after it?s been sitting for several hours. If you?re not sure if the leaking substance is transmission fluid, put a piece of paper under the leak where the fluid is pooling and take it with you to your mechanic when you go in for service. A trained mechanic will usually diagnose the fluid and detect the source.
When should I get my car serviced?
Once you notice transmission fluid in your driveway, even if it is a small amount, you should get the leak repaired as soon as possible. If left unaddressed, the problem will get worse over time, put your engine under unnecessary, and eventually causing your transmission to fail completely. Remember, a small problem is easier to fix than a big one so getting your car serviced in a timely manner is important.
Is it better to drive in overdrive or normal drive?
When Should You Use Overdrive Gear?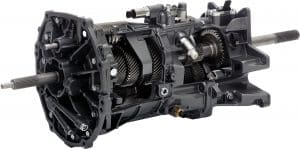 Due to the nature of the overdrive gear, it is preferable if you use it when you are traveling at high speeds. That too if you are planning to drive for a long time otherwise you won?t be able to feel its effects.
Fortunately, many cities are riddled with freeways nowadays so there is ample opportunity for you to test the overdrive function. If you go into overdrive at low speeds you would lose torque and you wouldn?t be able to accelerate your car as you should. Using overdrive at faster speeds you would be saving fuel as well as elongating the life of your car?s engine.
When Not to Use Overdrive?
We discussed that using overdrive at lower speeds would compromise your car?s performance but you will still be able to drive without any worries. However, there are situations where you should never use overdrive. One such situation is when you are climbing a hill or going off-road.
Input Shaft
The input shaft is what connects the engine to the gearbox and thus, carry the same power and speed of the crankshaft of the engine.
Counter Shaft
Also called as the layshaft, the countershaft connects the input shaft to the output shaft through a fixed speed gear. Additionally, it also contains the gears for the drive gears of the car including the one for reverse.
Drive gears
These gears are located on the output shaft. They determine the ?gear? that your car is currently engaged in, like 1st gear, 2nd gear, ans so on. Each gear is enmeshed with the gear directly underneath it mounted on the countershaft.
Output shaft
This shaft runs parallel directly above the layshaft. The output shaft is what transmits or delivers the power of the engine to the rest of the drivetrain. The power and speed of the output shaft is dependent on the gears that are currently engaged.
Idle gear
This gear is located between the reverse gear mounted on the output shaft and its corresponding gear mounted on the layshaft. This is what allows the vehicle to go in reverse.
Synchronizer Sleeves or Collars
Modern cars have synchronized gearboxes. This means that the gears mounted on both the layshaft and the output shaft are always enmeshed and are always spinning. The question most people have is that if all of the gears are somehow connected to one another and all of them are spinning at the same time, how is it possible that only one of these gears will be transmitting the right amount of usable power or torque to the output shaft. Additionally, since the input shaft is technically spinning at a different speed from the output shaft, is it even possible to obtain a smooth transmission of power??This is the work of synchronizer collars or sleeves.